ORDERING INFORMATION and TERMS OF SALE
Thanks for your interest in The Desert Northwest Mail Order. This page covers:
Ordering & Payment
Please pay by check or money order, payable to The Desert Northwest; or use SquareCash (see below). We ask that you enclose payment with order, unless previously arranged otherwise.
If paying by check or money order, please fill out the order form completely. (It doesn't matter which you use; they are all the same.) Please provide your e-mail address on your order form, in case we have a question concerning your order. If you opt to be excluded from my e-mail newsletters, we will honor this, and your privacy is assured.
We strongly encourage listing alternatives/substitutions in case an item you requested is out of stock. If you would prefer a credit, please say so. If you do not, we shall choose an alternative(s) we hope you will like, according to your other selections.
We accept and ship orders throughout the year on the West Coast, weather permitting. Occasionally we may opt to delay shipping at our discretion if the weather is very cold or hot, either here or where the plants are going. Mostly we try to avoid shipping to the East Coast during the coldest part of winter, but it depends what you are ordering. Late March through most of November is generally safe for most plants and destinations.
Although we ship year-round, we suggest late summer/fall as a great time of year to place an order for the best selection, as many plants that are small and undeveloped in the spring may be ready then. Also, as we all know, fall is a great time to plant!
On a rare occasion we may be away from the nursery for a long period of time. Thanks for your understanding if there is a delay in our reply to your question, or in shipping your order, during such times.
Payment with SquareCash
SquareCash is an easy and convenient way to pay for your order using a debit card if you prefer to do things electronically! Although we still don't have an online shopping cart feature, this may be even better as you can't beat it for simplicity. It is free to use and entirely secure. Here's how it works.
E-mail us and let us know what plants you want & quantities of each, and tell us you'll be paying with SquareCash. Add up the total price (no additional shipping charges apply - see below).
Then go to https://square.com/cash
Put in your email address and get your $1 for trying it. Check your email. Follow the directions to deposit your $1 providing your debit card information. You now have a SquareCash account.
Draft an email like this:
"To:" mail@desertnorthwest.com
"Cc:" cash@square.com
"Subject:" $45.00 (or whatever the total value of your order is. This is an example.)
These directions are also found here.
We then magically collect your payment. Doesn't that sound like fun? Give it a try! Just don't forget to let us know what plants you want!!
Minimum Orders and Shipping
Big changes to this section for Fall 2016!
A minimum order of $40 applies.
All prices include shipping to anywhere in the USA! That means once you add up your total for the plants, that is your grand total! There is no shipping charge beyond that. (This may sound redundant; I just thought I'd be extra clear.)
For Washington state residents, all prices include Washington state and local sales taxes.
The purpose of these changes is to make things less complicated for you, the customer. This blog post documents the reasons for these changes in more detail.
(As of 10/19/16 I haven't written this blog post. But I will soon.)
Plants are shipped only within the United States. (We do not ship to Hawaii.) We generally ship via USPS. We find that their flat rate boxes work well for the size of plants we offer. However, we occasionally use other types of boxes as needed, especially for shipments to Washington and Oregon.
Most plants are shipped with most or all of their soil, but no pots, and wrapped in newspaper and/or plastic to protect the roots and keep them moist. For certain plants with more delicate root systems (including all Proteaceae), the pots are left on to ensure the root system is undisturbed. Please be prepared to pot up the plants into containers, or plant them in a well-prepared bed, immediately upon receipt of your order.
We guarantee all plants to be healthy, robust, and well-rooted when we send them, and carefully packed. If they arrive in poor condition, please let us know right away. Please don't refuse a damaged box that may contain perfectly healthy plants.
Plant Sizes
How big are the plants we ship? Everyone wants to know. Well, as the saying goes, "a picture is worth a thousand words." So here is what our mail-order plants look like: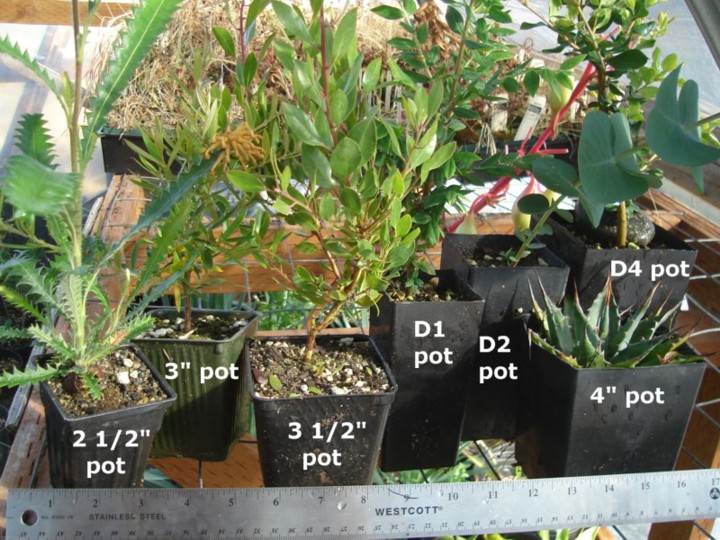 The standard mail-order size we send may be any of the sizes pictured above. Basically it's anything smaller than a 1 gallon pot. We try to ensure that the plants are full and sturdy with well-developed root systems before we send them. It's impossible to generalize about the dimensions of the plants themselves, since this factor is dictated by the natural growth habit of each species.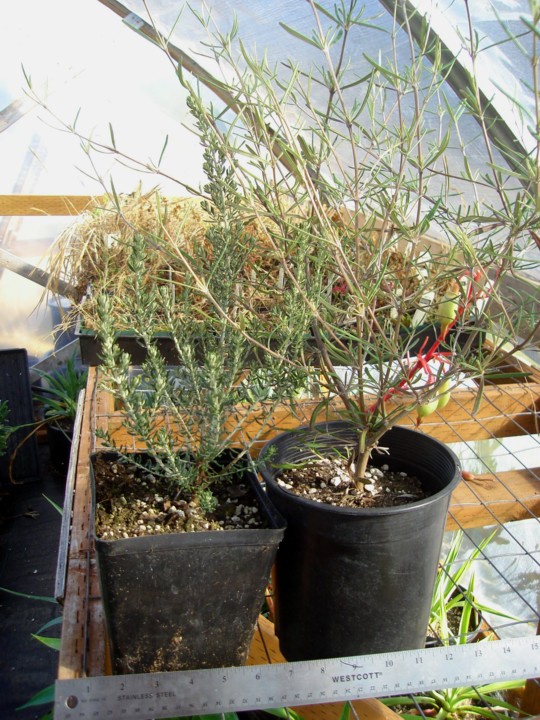 We also ship some "1 gallon" plants. Above are two examples of what those plants look like. We use both "square gallons" and "round gallons." (It should be noted that what are called "1 gallon" pots or "#1 pots" in vernacular usage are in reality somewhat less than a true gallon.)
Again, we ship most plants without pots as described above.