This article first appeared on the Northwest Palms Discussion Board in May 2002 when I returned from my trip. It was revised for publication in HPI Editions #51 and 52. In February 2007 I made some minor revisions for reproduction here.
I have long wanted to take a self-guided botanical tour of southwest Oregon, and in May of 2002 I finally had that opportunity. Accompanied by my friend Sam Castro, I left Olympia on Monday morning and drove down I-5 to Grants Pass, Oregon, where it started raining very heavily. We took the Redwood Highway (US 197) to the coast, stopping at a 'Darlingtonia overlook' where I attempted to photograph the famous carnivorous pitcher plants (Darlingtonia californica) in habitat, but it was really too dark for quality photos. The fantastic scenery in this region is further enhanced by the age-old, contorted madrona trees (Arbutus menziesii) and live oaks (Quercus chrysolepis) on the canyon walls and hillsides, and of course the redwoods (Sequoia sempervirens).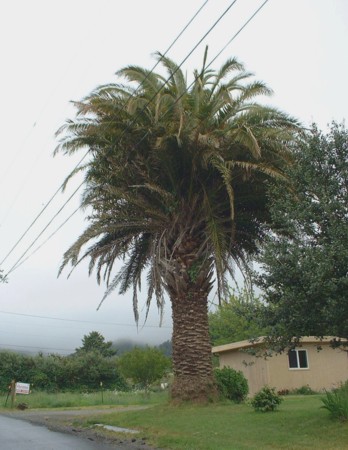 Upon reaching the coast, we drove north to Loeb State Park to camp for the night. Loeb is just up the Chetco River from Brookings, Oregon, and contains Oregon's largest and most northerly naturally occurring redwood grove. The forests in this area are remarkably diverse in species: they have about everything we have in the maritime Pacific Northwest-trees like red alder, bigleaf maple, Douglas fir, western hemlock, and others-plus redwoods, live oaks, tanbark oak (Lithocarpus densiflorus), California laurel (Umbellularia californica) and lots of other interesting smaller species. We camped under a huge Umbellularia specimen: this large evergreen tree has the potential to create a dramatic rainforest or Mediterranean effect as a large-scale backdrop in subtropical gardens, where there is enough space. Luckily for us, it stopped raining just long enough for us to pitch the tent in the dark; then it rained all night, and then it stopped in the morning just long enough for us to take it down.

After taking a little time to look at the redwoods the following morning, we drove into the small city of Brookings to see what we might see. The Brookings/Harbor area has the mildest winters in the Pacific Northwest, enabling gardeners there to grow a similar palette of plants to those found in coastal California, including many species that are too tender for most Pacific Northwest gardeners. The climate here is roughly comparable to that of coastal Cornwall, Southwest Ireland, or coastal New Zealand; although it is drier in the summer. This 'banana belt' region begins roughly at Cape Blanco and Port Orford, extending south into California, while the rest of the Oregon coast is occasionally struck by severe Arctic blasts. These blasts do occasionally reach the southwest coast, but they lose some of their severity, and occur less frequently, south of Cape Blanco.

Our first stop was Carol Crockett's garden in Harbor, just north of the California border. She has a rather formal looking garden containing some common plants interspersed with some more interesting species. Some of the more noteworthy plants include gigantic red and purple tea trees (Leptospermum spp.), a huge princess flower (Tibouchina urvilleana), a large Chilean fire-tree (Embothrium coccineum), waratah (Telopea oreades), Banksia, and some other rarities. I was impressed by how large these trees had grown: Carol advised us that most anything planted in Brookings can be expected to grow twice as fast and twice as large as the books say, because of the mild temperatures, 80 inches of rain, and good soil. She had some nice specimens of windmill palm (Trachycarpus fortunei) and Mediterranean fan palm (Chamaerops humilis) in her garden, and expressed that she might be interested in more palms. She pointed me in the direction of Andreason's, the area's local nursery, which we visited later, and also insisted that we visit Azalea Park.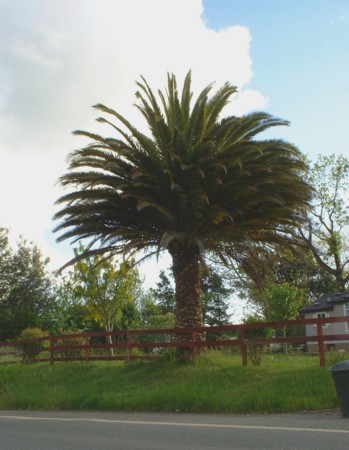 Azalea Park, as one might expect, has a fabulous display of Azaleas (the native Rhododendron occidentale were indeed magnificent, and many planted specimens of other Azaleas were also blooming). A small Mexican fan palm (Washingtonia robusta) grew in the garden, and just down the road stood that Canary Island date palm (Phoenix canariensis) which I have seen in numerous photographs. There was also a rather large, but sad-looking, Washingtonia in the same neighborhood (it has been postulated that this is W. filifera, but I think it is W. robusta)-and of course there were large, trunked Cordyline australis all around town.

We drove around Brookings and Harbor for a while in the pouring rain looking for interesting plants and gardens. It seemed that most of the more exotic plants were to be found in Harbor, which had many newer neighborhoods, and apparently better soil. We found many large century plants (Agave americana), some of which were blooming; bird of paradise (Strelitzia reginae), Norfolk Island pine (Araucaria heterophylla), a huge red bottlebrush (Callistemon citrinus), and a relatively tender species of prickly pear (Opuntia ficus-indica). We also observed a few monster Phoenix canariensis including one that must have had a 3' diameter trunk and perhaps 200 fronds. One newer house had a magnificent front garden with large Agaves, Spanish dagger (Yucca aloifolia) and some large Washingtonia palms. Trachycarpus fortunei is fairly common in the area, but all the specimens we saw looked battered and scruffy from too much exposure to wind and sun. Why anyone on the southwest Oregon coast would plant Trachycarpus when they could plant Washingtonia is beyond me.

Besides Carol, there are a couple other people I know of in the area who like exotic plants, but I was not able to connect up with them on this trip. Overall, however, much the Brookings community seemed rather disinterested in exotic plants and is dominated by traditional temperate climate landscaping. It was certainly odd to see the common, overplanted 'Emerald Green' Thuja interspersed with Agave in a hedgerow.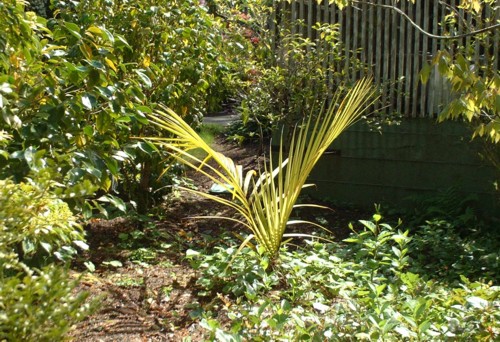 Andreason's nursery just north of Brookings turned out to be moderately disappointing: a once-glorious terraced nursery having huge potential, but now only a shadow of its former self, it was poorly maintained and managed. I had heard that the owner passed away a couple of years back, and it was apparent that along with him so had the passion for interesting and unusual plants, a vestige of which still remained as planted specimens here and there around the periphery of the nursery. His sons were there, however, and upon our early afternoon arrival at the nursery, the 'closed' sign in the window mysteriously switched to 'open' and the sound of Amy Grant came blasting with astounding volume over what turned out to be a small indoor-outdoor radio, and did not cease. The nursery had some interesting items such as Eucryphia x nymanensis, but mostly a lot of Rhododendrons. They were not even selling most of the Rhododendrons, because they could not figure out what type they are until they bloom.

Our next stop was Ben Gardener's garden in Pistol River. Fortunately, it stopped raining on our way up, and the sun came out. Ben has grown an unbelievable assortment of Australian and New Zealand native plants from seed, and has gardened in the same place for more than 30 years. He is also very interested in heaths (Erica spp.) and has thousands of species, cultivars, and unnamed hybrids all around the garden. Although the garden contains an extensive collection of exotic plants, the total effect of the place is quite unlike what one would expect from your usual 'subtropical' garden. The garden is set on a series of coastal sand dunes, and is so exposed, and the soil so thin and sandy, that few plants grow taller than about 25'. Even most of the usually large-growing eucalypts, which Ben intended to be windbreaks, are stunted in his garden. E. gunnii might have reached about 40', but most of the eucalypts were too short to have any significant effect at blocking the wind. With the plants kept low and shrubby by the wind's unrelenting presence, the entire garden subtly blends into the landscape: one of manzanita (Arctostaphylos columbiana), and stunted shore pine (Pinus contorta) and Arbutus trees. In fact, I did not even discern that I was looking at a garden full of fantastic pants when I was driving up: one has to slow down and look closely at things to appreciate the total effect. To me, this was a nice change from the usual 'subtropical' look in which bold plants are placed to grab your attention with striking flowers or large foliage. Once we had a look around, we recognized that the sheer size of the garden and number of plants was overwhelming. Specimens included Eucalyptus, Banksia, Telopea (including the showy T. speciocissima, which was blooming), Callistemon, Olearia, Leptospermum, Pittosporum, Sollya heterophylla, and Embothrium coccineum, just to name a few.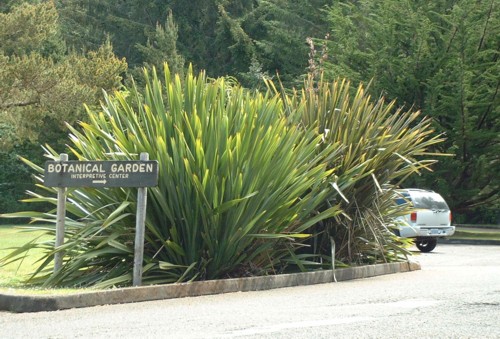 Another of Ben's unique, innovative features is an elaborate gravitational irrigation system, involving numerous sprinklers perched high atop pieces of rebar all over the garden, some of which are left running constantly. (Where the water comes from, I forgot to ask, but it must not be too expensive!) One might expect the plants to get too wet this way, but the sandy soil apparently provides such excellent drainage that nothing drowns. In the summer his irrigation system is essential since the place dries up and looks 'like the Sahara.' We thanked Ben for his time, and agreed that it is certainly a most interesting garden, well worth the visit.

Afterward we drove a little way up the coast to Tradewinds Bamboo Nursery in Gold Beach, and visit with the owners, Gib and Diane Cooper. Tradewinds is one of the more reputable mail order bamboo nurseries in the United States. I had the opportunity to look at a number of interesting mountain bamboos Gib is experimenting with. Many of the more tender, large clumping mountain bamboos with colored canes thrive in the south Oregon coast's equable climate. Chusquea valdiviensis is an especially impressive and exotic-looking Chilean bamboo that climbs into and over the trees like a gigantic bramble. The garden will be much more exciting in a few years though, when it is farther advanced and the bamboos have grown larger.

We had pizza in Gold Beach, and then drove up the Rogue River remembering a tip from Brenton Gauthier about a large Phoenix palm up that way. A little more than a mile inland on the South Shore Road we found it: probably the northernmost large unprotected Phoenix canariensis in North America, unless one remains undiscovered in some nook farther north. It had a more slender trunk than those in Harbor, it appearance probably affected by the greater heat accumulation that occurs farther inland. Across the street was an impressive paraņa pine (Araucaria angustifolia) also. We drove around Gold Beach a little more but did not find anything else interesting; however, I think it is overall a very nice town. We then went north to Humbug Mountain State Park and camped there for the night.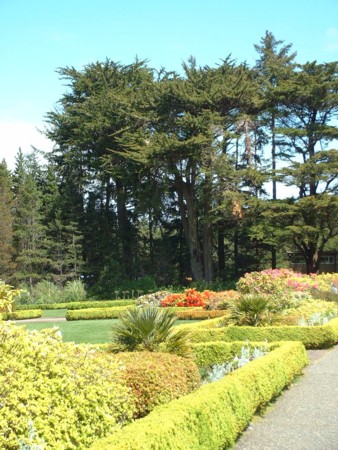 On Wednesday I got up early and hiked up Humbug Mountain, which made for a good native plant walk, but the views were a little disappointing. We then drove north to the Coos Bay/North Bend area. As we passed Port Orford, we said goodbye to Oregon's true 'banana belt.' It was roughly in this area that we ceased to observe any very large specimens of Cordyline australis that were not killed to the ground in the landmark winter of December 1990.

Our next stop was Shore Acres State Park and Botanic Garden, which is located west of Coos Bay on the coast. Head Gardener George Guthrie gave us a quick tour of the park and gardens, which include a formal French-style garden, a pond garden, a rose garden, a rock garden, and some large natural areas including a beach with lots of fantastically sculpted rocks. Shore Acres began as an estate garden with a private beach, but it is now preserved by the Oregon State Parks. A self-proclaimed 'plant nut,' George has incorporated many rare and interesting plants into the garden, including the Mexican Pinus michoiana, paraņa pine (Araucaria angustifolia), eucalypts including the rare E. scoparia, waratah (Telopea oreades), a huge pineapple guava (Feijoa sellowiana), Catalina ironwood (Lyonothamnus floribundus var. aspleniifolius), Desofontainia spinosa, New Zealand ribbonwood (Plagianthus betulinus), Libertia spp., bottlebrush (Callistemon spp.), and various other interesting plants and trees. Gunnera chilensis reseeds itself weedily in the garden and they also have a nice G. manicata. A single specimen of New Zealand's nikau palm (Rhopalostylis sapida) persists in the garden: it has grown very slowly but is still alive and well. There are also some huge specimens of New Zealand flax (Phormium tenax) in the parking strip, huge Monterey cypresses (Cupressus macrocarpa) in the skyline, and Chamaerops humilis, Cordylines and others, resulting in a more exotic feel overall than would be easy to achieve in more northerly parts of the Pacific Northwest. One of two contenders for the world's largest Monterey pine (Pinus radiata) also finds its home in the garden. Thanks to George for taking time to give us a tour of the gardens.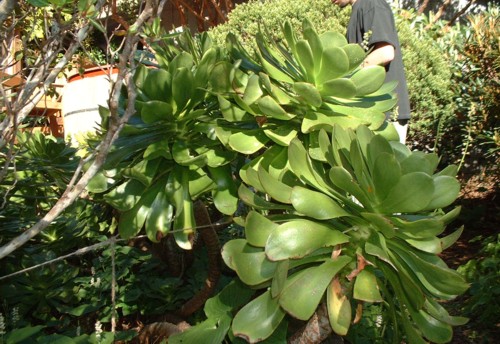 We continued north once more to Jim and Janice Gerdemann's place in Yachats, which is about midway up the Oregon Coast. Jim has an extensive private botanic garden with about 2,500 plant species, cultivars, and varieties. He specializes in Rhododendrons, especially Maddenia species and hybrids, many of which were blooming when I was there. He also grows many Vireya Rhododendrons, which he has been breeding for hardiness on the coast, and a variety of big-leafed and other interesting Rhododendrons. Personally, I find these Rhododendron groups to be much more interesting than the average garden rhodies that are commonly sold and planted around the Pacific Northwest. He also has many other exotic plants including large eucalypts, bottlebrush (Callistemon spp.), winter's bark (Drimys winteri), Chilean lantern tree (Crinodendron hookerianum and C. patagua), Telopea yet again (T. truncata, the Tasmanian waratah, bloomed for the first time this year), a South African honey bush (Melianthus major) that measured an amazing 20' tall and 25' wide, Abutilon, an amazing gigantic Gunnera manicata, treeferns, hardy banana (Musa basjoo), bamboos, Aeonium spp., hardy bromeliads, Aloe spp., mesembs, and far too many other exotic species to list. His palm collection contains some heat lovers, including a couple of Sabal spp., including the Caribbean S. bermudiana which grows very slowly here, a needle palm (Rhapidophyllum hystrix) which does surprisingly well, pindo palm (Butia capitata), Chamaedorea spp., and a couple Trachycarpus. Jim says he has trouble with bears in his garden: they come in and sit on his plants, crushing them! Perhaps I should not complain so much about deer in my garden, I thought to myself. We had good weather for our stay, and spent a long time there looking at the garden and just trying to recover from the rest of the trip. Many thanks to Jim and Janice for their hospitality!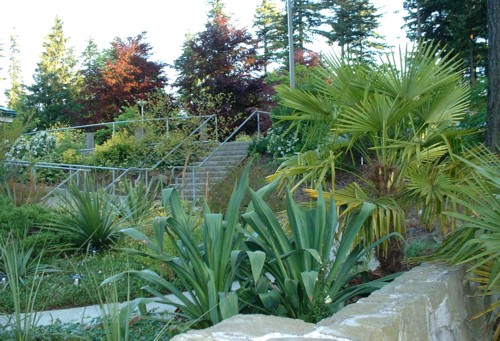 On we drove, and north of Yachats we did not find any more specimens of Cordyline australis that were not killed to the ground in the December 1998 freeze. Our final scheduled stop was Trans-Pacific Nursery in McMinnville, southwest of Portland. But by then, I was so tired of looking at plants that I did not feel like taking time to look at the place very thoroughly. So I just took a quick look around and bought a hickory wattle (Acacia obliquinervia) and cabbage tree (Cussonia paniculata) and left.

Then we got stuck in traffic in Portland, and decided we might just as well visit the Hoyt Arboretum as sit on the freeway. We took a quick look at their bamboo collection, which is coming along nicely and contains a few rare species. There are also a lot of interesting things planted around the visitor center, including Ficus carica x pumila, Beschorneria decosteriana, Trachycarpus wagnerianus, some southwestern oaks, and others. Finally we drove back to Olympia.

So it was quite an exciting adventure. There were a few other people and gardens I would have liked to visit, but I did not have a chance this time. Most of these were in the Portland area, and Portland is not that far from my home in Olympia, so it will not be that hard to get there. I'm already eagerly awaiting my next trip to southwest Oregon!

Back to Articles | Home